La Bienal de Arte Contemporáneo SACO invita a artistas a participar en la convocatoria para su exposición principal denominada Aluvión.
Los creadores seleccionados contarán con aproximadamente 10 días de residencia en ISLA, Instituto Superior Latinoamericano de Arte, para la materialización y montaje de sus obras. Posterior a la inauguración, participarán en un viaje de contextualización del territorio, hacia el interior del Desierto de Atacama. 
Un jurado seleccionará siete propuestas de acuerdo a su calidad; su pertinencia con el espacio a intervenir: el Muelle Histórico Melbourne Clark de Antofagasta; y principalmente, su relación con el concepto curatorial Aluvión.
The SACO Contemporary Art Biennale is inviting artists to participate in the open call for its main exhibition entitled Flood.
Selected artists will take part in a ten day residence at ISLA, Latin American Superior Art Institute, for the realization and installation of their works. After the opening, the artists will participate in an immersion trip in the territory, into the interior of the Atacama Desert.
A jury will select seven proposals according to their quality, as well as their suitability to the space for intervention: The Melbourne Clark Historic Pier in Antofagasta, and above all, how well they relate to the curatorial concept Flood.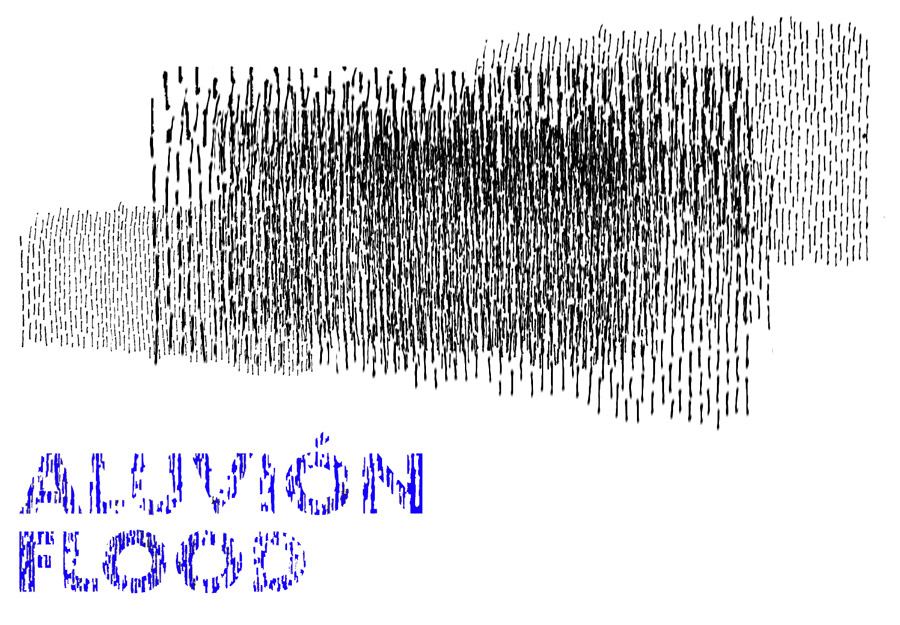 ALUVIÓN / texto curatorial  
A 30 años de uno de los fines del mundo 
A raíz de tres horas de intenso temporal la madrugada del 18 de junio de 1991, el aluvión arrasó la capital del desierto más árido del planeta. El agua enjuagaba la tierra de los cerros desnudos y de nula absorción, hacia las quebradas, arrastrando ríos de barro de hasta dos metros de  altura que hundieron Antofagasta. Una capa geológica bruscamente cubrió la otra, anulándola, destruyéndola, sobreponiéndose. Los cerros se vinieron abajo convirtiendo los barrios en  arqueología. El siguiente amanecer descubrió al mundo con una luz radiante: la escena del  cataclismo. Según la Biblia, el diluvio fue la herramienta del castigo. Era una manera de callar. En una de esas funcionó, hasta el estallido social, hasta el día en que el cielo se despejó  nuevamente. El pueblo perdió la inocencia y levantó la voz con fuerza. De allí vino el apagón global sanitario. Bajó la neblina y lo cubrió todo. Nuevamente se sobrepusieron las capas, esta vez de resistencia. 
Tratando de controlar lo incontrolable, en los tiempos líquidos, los que se aferran a los mástiles terminan bajo el agua. Las ciudades están más vivas que nunca, porque se enferman junto a  nosotros, se descuidan, se encierran, se deprimen. Sienten. Después se levantan una mañana con un luto superado, se duchan con la lluvia, se pintan con el sol y se van a bailar. Los tiempos  posteriores a las crisis suelen ser los más fértiles.  
¿Cómo vivir después de un apocalipsis? El mundo que conocimos terminó, debemos ahora fluir en los tiempos post. Cuando baja la adrenalina y el polvo, ya no queda más campo para el  heroísmo. Ahora debemos doblarnos las mangas y sepultar, demoler y desinfectar. Ordenar, eliminar lo que se destruyó, despejando así el espacio para algo nuevo. Contamos las víctimas, hacemos tablas y gráficos. "Para la próxima vamos a estar mejor preparados", escriben en las redes los que han sobrevivido a algún fin. Game over. 
Tenemos otra vida. Pasamos al siguiente nivel. Aquí hay otros villanos que aún no conocemos. Hay que perderse, cambiar recorridos, pero no en redes sociales, no en la posverdad, sino en la  calle. Solo un encuentro casual, cara a cara, del cual ningún algoritmo sospecha, permite una  expectativa real, algo no prediseñado, es el sinónimo de libertad. Y no se trata de reinventarse, porque no somos nuestro propio invento, tampoco un hardware con sistema automático de  reiniciar. Hay que demoler el sistema binario de éxito y fracaso que convierte la competitividad del soberbio Antropoceno en el modo de relacionarnos. Prepararse para la lluvia en el desierto. Y no solamente por el cambio climático, que la hace cada vez más probable, sino porque todo  es posible si cambiamos el switch. Y si aún lo dudas, mira hacia atrás. El desierto no es sino el mar, con una temporal ausencia de agua. 
FLOOD / curatorial text
30 years after one of the ends of the world
Following three hours of intense rain during the early morning of June 18, 1991, a mudslide swept through the capital of the driest desert on the planet. The water stripped the soil from the barren hills, incapable of absorbing the falling rain, and into the ravines, carrying rivers of mud up to 2 meters high that inundated Antofagasta. One geologic layer abruptly covered another, nullifying it, destroying it, overcoming it. The hills came tumbling down, converting the neighborhoods into archaeological sites. In the radiant light of the subsequent dawn a cataclysmic scene was revealed. According to the Bible, the flood was a tool of punishment, a way to silence the earth. It was working more or less, until the nationwide popular uprising, when the skies cleared up again. The people lost their innocence and raised their voices in furor. And then came the global sanitary shutdown. The fog descended and covered everything. New layers were once again superimposed, this time of resistance.  
Trying to control the uncontrollable, in liquid times, those who cling to the masts end up under water. Cities are more alive than ever, because they get sick just like us, they are neglected, shut down, depressed. They feel. Then they get up one day, having overcome their mourning, they shower with the rain, get all done up with the sun and go out dancing. The times following a crisis are often the most fertile.
How to live after an apocalypse? The world we once knew has ended; we must now flow into the after times. When both the adrenaline and the dust subside, there is no longer space for heroism. We must now roll up our sleeves and bury, demolish, and disinfect; organize, get rid of what has been destroyed, and thus clear the way for something new. We count the victims, we make tables and graphs. "We'll be better prepared next time," write those in social media who have survived some other finale. Game over.  
We have another life. We got to the next level. Here, there are other bad guys that we don't yet know. It is time to get lost, wander off in some new direction, not in social media, not in post-truth, but rather, in the streets. Only a casual encounter, face to face, of which no algorithm would suspect, allows for real expectation, not something predesigned–this is what freedom means. And it's not about re-inventing yourself, because we are not of our own invention, nor are we hardware with some auto-reset system. We need to tear down the binary system of success and failure that has characterized the way in which we interrelate throughout the haughty era of the Anthropocene.  Preparing for rain in the desert, and not only from climate change, which makes it evermore likely, but because everything is possible –if we make the switch. And if there is still any doubt, look backwards. The desert is nothing but the sea, with a temporary absence of water. 
APERTURA – OPEN / 12 ENERO – JANUARY
CIERRE – CLOSE / 12 ABRIL – APRIL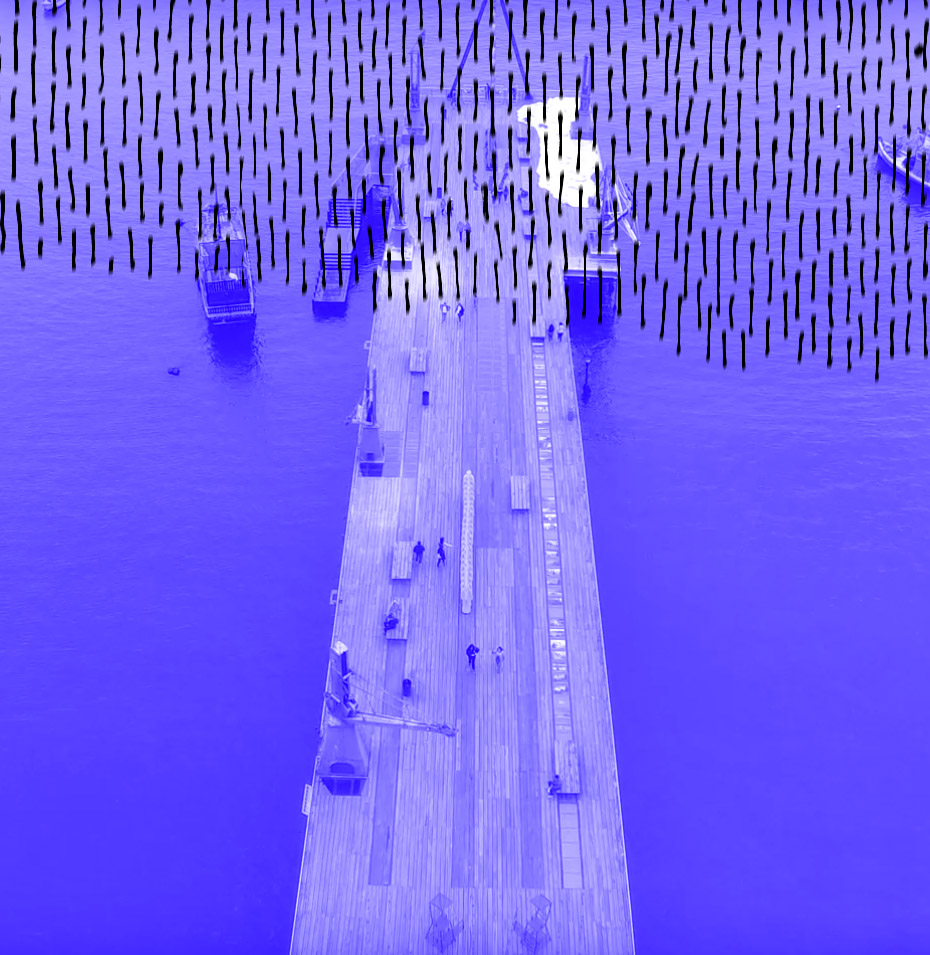 Somos una pareja de artistas y quisiéramos postular a la convocatoria internacional, ¿podemos?
R: Lamentablemente el premio es para artistas individuales, ya que nuestras bases y líneas de financiamiento exigen artistas individuales; en caso de que se postule individualmente y quede seleccionado, el o la acompañante deberá correr con sus gastos de transporte, alimentación y viaje de residencia (quedando como artista en nuestros registros solo quien postuló).
¿Puedo realizar parte de mi obra fuera del muelle?
R: No, el proyecto debe estar pensado para montarse y exhibirse exclusivamente dentro de la estructura del Muelle Histórico.
¿Debo empezar a trabajar desde que llego a Antofagasta o se puede ir adelantando parte del proyecto desde antes?
R: Al ser seleccionado como ganador de la convocatoria, el equipo organizador se comunicará rápidamente contigo para empezar las gestiones del desarrollo de la obra. Lo ideal es que esta ya esté avanzada antes de tu llegada a Antofagasta.
¿Puedo enviar más de un proyecto?
R: No hay límite en la cantidad de proyectos que puedes enviar.
¿Qué puedo hacer si mi pasaporte está en trámite?
R: Si tu pasaporte se encuentra en trámite, debes enviar la documentación que acredite que lo obtendrás antes de tu viaje a Antofagasta en caso de resultar ganador.
¿Qué países pueden ingresar a Chile sin pasaporte?
R: Los países que pueden ingresar a Chile sin pasaporte, solo presentando su cédula de identidad, son: Argentina, Bolivia, Brasil, Colombia, Ecuador, Paraguay, Perú y Uruguay.
El formulario me dice que hay un error con mi postulación, ¿qué puedo hacer?
R: Sugerimos revisar si la conexión a internet es estable y funciona sin problemas. Si persiste el error, esperar unas horas y luego intentarlo de nuevo. El formulario puede dar fallos si es que postulas durante los últimos días del proceso, debido a la masiva cantidad de proyectos que se estarán ingresando, por lo que aconsejamos no dejarlo para último momento.
Vivo fuera de Chile, ¿hasta cuándo tengo para postular?
R: La fecha de cierre es única para todo el mundo, a las 24:00 del 12 de abril hora de Chile continental (CLST).
We are an artistic duo that want to apply, can we?
R: Unfortunately the award is only for individual artists, since our bases and financing lines require individual artists; in case that one individual of a duo apply and is selected, the companion must fund his/her transportation inside the region, food, accommodation and travel to Antofagasta (the one who applied will be the only one remaining as an artist in our registry).
Can i put my piece of art outside the pier?
R: No, your project must be designed to be mount and exhibited only above the structure of the historical pier.
Should i start working on the art piece after i arrive to Antofagasta or can some of the project be advanced before?
R: When you are selected as the winner of the open call, the organization team will contact you to begin the steps forward in the development of the art piece. The ideal scenario is that the work is advanced by the time you arrive in Antofagasta
Can i send more than one project?
R: Yes, but you have to apply multiple times, each one with a different project. 
What can i do if my passport is pending?
R: If your passport is pending, you should send documentation that accredits that you will obtain it before your travel to Antofagasta, in case that you would be selected.
What countries can enter Chile without a passport?
R: The countries that can enter Chile without passport, only with the respective national identity document, are: Argentina, Bolivia, Brazil, Colombia, Ecuador, Paraguay, Peru and Uruguay.
The form is telling me that there is an error with my apply, what can i do?
R: We suggest to check if the internet connection is working appropriately. If the error continues, wait some hours and try it again. The form could present errors if the apply is made during the last days of the process, because there is a massive amount of projects being received. For that reason, we suggest to not leave it for the last moment.
I live outside of Chile, how long do I have to apply?
R: The closing date for applying is at 24:00 of April 12th, Chile Summer Time (CLST)